This package is the ideal basis for relaxing but at the same time spending active days at Golfpark Strelasund. Have a nice round of golf and afterwards, relax at our spa StrelaMare, enjoying the panorama view over our golf course.Golfpark Strelasund offers pure golf & spa pleasure!
booking conditions
Additional night:
from €55.00 per person in a double room | €69.00 per person in a single room
Bookable:
bookable from 01.01.2016 to 31.12.2016 excluding public holidays
*Please notice that services, which you do not make use of, cannot be refunded or otherwise compensated.
2 nights in a double or single room
extensive vital breakfast buffet at the country inn 'Frettwurst'
1 bottle of water in your room at arrival
1 glass of Sekt to welcome you
two-times a three-course dinner or buffet (at the choice of the chef de cuisine) at the country inn 'Frettwurst'
golf unlimited on all our 36-holes on three days including 1 trolley and 1 token per day, as well as one birdie guide per room (as an alternative to golf unlimited, you may choose to receive 3 spa treatments of 30 minutes each)
free use of the spa StrelaMare including use of the indoor pool and the sauna area
free parking on the hotel parking facilities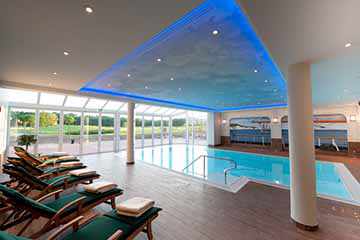 pro Person im Standard DZ
Book your stay